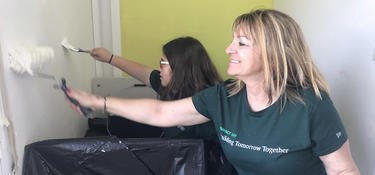 Community Growth & Investment
At Prologis, we build more than industrial and logistics real estate. We build long-term relationships with our communities. We are committed to creating value through initiatives like IMPACT Day, Prologis Community Workforce Initiative and PARKlife™ that deliver positive impact for communities, environments and individuals around the world.
Creating healthy buildings
We have pioneered incorporating the WELL Building Standard® that focuses on building design and management that enhances health and quality of life in the work environment. The WELL Building Standard® encourages health and well-being by blending the outside and inside environments. The guidelines focus on seven categories of building performance: air, water, nourishment, light, fitness, comfort and mind.
IMPACT Day 2022
Each May Prologis Spain takes part in Impact Day, the company's annual volunteering event. This year was special, as Prologis employees went out to help with environmental activities at the Sant Llorenç del Munt i l'Obac Natural Park, 13,700 hectares of protected countryside near Terassa, around 50 kilometres north of Barcelona.
PARKlife™
At Prologis, we make so much more than industrial logistics buildings: we create the spaces and places where our customers' businesses can thrive, where employees enjoy coming to work, and where communities and nature can flourish. We call it PARKlife™.